I taught English in the East District of Ulsan, for a year and a half, from 2016 to 2018. I lived in Kkotbawi, at the very end of the little Eastern peninsula and adored it as my Korean hometown.
This is my list of discoveries that kept me happy and healthy as a waygookin. I hope you find it useful too.
Pro Tips and Facts:
-You never have to leave Dong-gu if you don't want to. It has everything you need.
– Basically everyone in Dong-gu works for or is married to someone at Hyundai Heavy Industries or the Hyundai car factory
– If you're on the road OR sidewalk, watch out for motor bikes during peak traffic times
– Hyundai took a hit in the last decade, causing many businesses to close and foreigners to move back home (really evident in Kkotbawi)
– You get used to seeing almost every man wearing a Hyundai jumpsuit and sometimes full face scarf/hat
– Since most husbands work for Hyundai, it's common that wives in Donggu don't need to work and are seen socializing together through out the day in their hiking gear
– Despite the hit to the economy, it's still a lovely place to live your best Korean life
---
---
Health
---
Medical Clinic
I visited this doctor, even if it wasn't an EMT problem, just because he was kind and speaks English really well and I trusted him (and visits Whistler every winter so he understands Canadian snow and healthcare). He can send you to a different doctor if he can't help you.
Name: Dong San Otolaryngology (EMT) (동산 이비인후과)
What: English Speaking EMT (Eyes/Mouth/Throat) and Pediatric Clinic 

Where: Hwajeondong, Dong-gu, between the Paris Baguette and Lotteria on the second floor. Look for a green sign (see pics)
Click here for Naver Maps.
Click here for Google Maps.
Hours: In Korean here.
Mon 9-6:30pm, Tues-Fri 9-7pm, Sat 9-2pm, Sun Closed
Closed daily for lunch from 1-2pm

Phone number: 050405484919

Upon Arrival: It's always busy. Hand your ARC card to the nurse, and she'll write your name on the waitlist. Prepare for a wait surrounded by kids and worried parents.
---
Hospital
I visited 3 different hospitals during my time in Korea and soon learned that healthcare is not free here, although very efficient. Expect hospitals to be run like a factory, with little time or effort to make you comfortable, but very fast and effective service. However, as a foreigner they will try their best to help you in English (finding a translator) and will do everything to fix you.
Ulsan University Hospital (울산 대학교병원)
Website in English here.

What: Urgent Care, Cancer Centre, Emergency Room
Where: Jeonhadong, Donggu. Across from Hyundai Heavy Industries.
Click here for Naver Maps.
Click here for Google Maps.

Upon Arrival: There's a main building and a new building. Go to the new building and find desk number 6 for foreigners. Regular patients will take a number and wait, but since there's only one English speaking desk, you can stand and make yourself known, and she/he will call you over next. Give her your ARC card and she/he will tell you what to do next.
Rose Medi Womens' Hospital (로즈메디산부인과의원)
Website in Korean only here.

What: Women's health : yeast infections, pap tests, ultra sound, HPV tests, pregnancy, birthing centre, dieting, skin care, etc.
Where: Jeonhadong, Donggu. Across from Hyundai Heavy Industries.
Click here for Naver Maps.
Click here for Google Maps.
Phone number: 052-234-3575 or 052-236-5488
There is one woman that speaks a little English on the phone and at the front desk (Remember to speak slowly!)
Hours:
Weekdays: 9:30-6:30, 6:30pm- 7:30pm
Weekday lunchtime: 12:30-2pm
Saturday: 9:30-7:30pm
Saturday lunchtime: 1:00-2:00pm
Public holidays: 9:30-12:30pm
Sunday: 9:30-2:00pm

Upon Arrival: Go up the stairs on the outside of the building, and to reception on the second floor (go one more flight of stairs upon entering). The reception desk is on the left. Give the nurse your ARC card, take a seat, and wait for them to call you. You'll go into a small room and a nurse/doctor will consult with you before you go see the doctor you need.
Boram Hospital (보람병원) (Samsan-Dong/Downtown)
Website in Korean only here. 
What: Although it's outside of Dong-gu, Boram is a highly recommended hospital within the Ulsan foreigner community. They have really helpful translating staff, specifically to help foreigners get around the hospital and visit the doctor.
Boram is a women's hospital, but functions as a normal hospital as well. As a public school government employee, I was eligible for a fully body health check up so I had it done here and had a very comfortable experience.
Where: Samsan-dong, Ulsan. Across the street from UpSquare's H&M, near the Lotteria.
Click here for Naver Maps.
Click here for Google Maps.
Phone number: 052-278-0114
Hours:
Weekdays: 8:30am- 5:30pm
Saturday: 8:30am -1:00pm
Lunchtime: 1:00-2:00pm
Night Hours: 6:00pm-8:00pm
Sunday hours: 9:00am-1:00pm

Upon Arrival: 
There are a few separate buildings, so find the front entrance and information desk. At the info desk they can call someone to come help you in English. Prepare for hundreds of pregnant moms and dads.
---
Pharmacy
You'll be surprised to find that most pharmacists and doctors speak excellent English. I recommend Myeong In Pharmacy for their service and the kind lad that speaks English very well.
Myeong-In Pharmacy (명인약국) 
What: Regular pharmacy where you can buy pills like tylenol and probiotics as well as fill out prescriptions. This is also where they sell masks for sickness and pollution.
Where: Hwajeondong, directly below Dongsan Clinic and next to Ediya Coffee (recommended above).
Click here for Naver Maps.
Click here for Google Maps.
Hours:
All pharmacies don't open until after 9am.


Oriental Medicine
Maekhan Oriental Medicine Clinic (맥한의원)
Acupuncture in Korea is cheap as chips (Around W8,000 after the initial appointment of W11,000).
I recommend you try it if you have any pain, and chronically or acutely tight muscles.
What: Addresses painful or tight areas of the body with ultrasound, cupping, and acuptuncture needles (with electric stimulation). Appointments last around 40 mins and are run smoothly.
Unable to find real website, but Good Doc website here. 
Where: Hwajeondong, near the Hwajeong Market. Second floor.
Click here for Naver Maps.
Click here for Google Maps.
Phone number: 052-201-8275
Hours:
Weekdays: 9:00am-7:00pm
Saturday: 9:00am-2:00pm
Sunday: Closed
Lunchtime: 12:30pm-2:00pm

Upon Arrival: 
The name of the business is above a parking entrance. The real entrance is to the left, you'll see a book store and hairdresser in the same stairwell. Go to the second floor. Give your ARC card and wait to be called into consult the doctor who speaks English fairly well.
---
Dentist
Yonsei Q Dentist (연새큐치과) (in Gongeotap, outside Dong-gu)
I found that dentistry in Korea is even more of a business than it is in Canada, especially for foreign patients. In my experience, I couldn't find a dentist I liked in Dong-gu.
I visited 2 different dentists before I found this dentist in Gongeotap (based on Ulsan Online recommendations).
He is kind, speaks perfect English and best of all is honest. He only takes care of what he knows you need immediately, if you let him know you're not wanting to spend your life's savings (which is totally possibly). He went to school in California and him and his wife speak phenomenal English. I had a lot of work done, including a root canal, crowns and inlays.
If you've never been to the dentist in Korea, it's good to know that you don't finish all the work in one day and will likely need multiple appointments.
What: All your dental health needs.
Find their page for foreign patients here. 
Where: Gongeotop rotary/roundabout, an hour and a half bus ride from Kkotbawi, above Paik's coffee on the 5th floor.
Click here for Naver Maps.
Click here for Google Maps.

Wife's personal phone number for English speaking patients: 010-8242-7818
(She's great, call her)

Upon Arrival: 
Book an appointment, go to the 5th floor (the elevator is slow so be patient), and hand your ARC card to the receptionist. They'll shuffle you in pretty quickly.
---
Things to do
---
Eat
Here are some of my favourite foreign and Korean restaurants in Dong-gu.
Deila 
What: Brand new Western style restaurant with an Italian menu. 'Deila' is the owner's Italian name and boy, does she make a good panini. The menu includes soups, meat or veggie paninis, a club house sandwich, lasagna and fish and chips. She has good strong coffee, beer, wine, and even ginger beer.
My friends and I are regulars and have basically tried the whole menu. Along with the great music and amazing view of the sea, it's a must-eat for homesick bellies and hearts.
Check out Deila's instagram here.
Where: Ggotbawi, seaside of the foreigner's road, across from Grappa Pizzeria
Click here for Naver Maps.
Click here for Google Maps.
Hours:
Monday: Closed
Weekdays: 11am-closing
Break time: 3:00pm-5:00pm
Sunday: 11:00am-8:00pm
Grappa Pizzeria and Pub
What: You'll soon find that Korean pizza is sweet, making this the only good pizza around. Try Gorgonzola Pizza! It's a blue cheese pizza that you dip in honey.
Check out their Trip Advisor here.
Where: Ggotbawi, seaside of the foreigner's road, across from Grappa Pizzeria
Click here for Naver Maps.
Click here for Google Maps.
Hours:
Weekdays and Saturday: 11:00am-11:00pm
Break time: 3:00pm-5:00pm
Sunday: Closed
대왕연탄제육불고기쌈밥 (Daewang Yeontanjaeyuk Bulgogi Ssambab)
What: Beef bulgogi, Cooked and marinated ground beef or pork that you wrap in fresh leafy greens, and add sauces to. Check out the their blog for pics!
Check out their Naver blog here.
Where: Ilsan Beach, near the love motels and next to the Pretty Whale cafe
Click here for Naver Maps.
자매네 전집 (Jamaenae Jeon Jib)
What: Korean pancakes, or jeon/전. Menu is all in Korean but try the kimchi jeon or pa jeon if you don't know what you're doing. See their blog for photos.
Check out their Naver blog here.
Where: Bangeo-dong, next to Hwaam Elementary School
Click here for Naver Maps.
Click here for Google Maps.
유매 (Yumae)
What: Amazing Japanese udon and pork cutlet sets. The restaurant is a tiny hole in the wall, just like in Japan, making you feel cozy and at home.
Check out their Naver blog here.
Where: Jeonhadong, in a tiny secret alleyway.
Click here for Naver Maps.
---
Drink Coffee
Bonita Coffee (보니타커피)

Atmosphere: Eco-minimalist with a stunning view of the sea
Try: Lemon or grapefruit ade, and the brownie
Pro Tips: The espresso is meh, but the ambience, latte art and view are amazing. There's limited seating so get ready to wait around, or come back later. Bring your selfie game.
Where: Ilsan Beach, above Dalkomm Coffee on the second floor.
Click here for Naver Maps.
Check out their Naver blog here.
And their Instagram here.
Shing-mul-weon (싱물원)
Atmosphere: Antique minimalist with jazzy, soothing music
Try: Strawberry tea (if in season) and 'real cacao'
Pro Tips: This is not a takeout place, due to the amount of time it takes to receive your order. I've been three times and each time took 30 minutes. Beauty takes time, so stay awhile. As of Feb. 2018, the upstairs loft isn't finished but it's worth taking a peek.
Where: Ilsan Beach, look for a white haunted looking building behind Moby Dick cafe
Click here for Naver Maps.
Check out their Naver blog here.
And their Instagram here.
Billabong Coffee & Pub
Atmosphere: Travel themed eclectic
Try: Black americano
Pro Tips: Their espresso is delicious. It's strong and full bodied, unlike almost every coffee I've tried in Korea. The owner is Australian.
Where: Kkotbawi, almost next the Kkotbawi bus terminal
Check out their Naver blog here.
And their Instagram here.


Freedom Station/ 자유정거장
Atmosphere: Cute and cozy bike cafe
Try: Coffees, smoothies and cookies
Pro Tips: There's more cute seating if you climb up the stairs
Where: Ilsan-dong, in the neighbourhood next to Home Plus
Find it on Naver Maps here.
Check out their Facebook page here.
And their Instagram here.
---
Go Outside
Daewangam Park/대왕암공원
When you first googled Ulsan to figure out what the heck you were signing yourself up for, I'm sure you saw pictures of this park.
This is the prettiest part of Ulsan and is located in Dong-gu, on one side of Ilsan Beach.
There are two lighthouses to check out – one within the park, and one that requires a seaside walk (Seuldo/슬도 lighthouse)
Check out Naver maps here.
Jujeon Beach/주전해수욕장
Not  many people hear about this highly underrated coastline. The town is tiny, but really busy in the summer time. It's a black pebble beach, with bigger waves and deeper bay than Ilsan Beach. Go there for amazing seafood or a delicious stop at J Factory for fresh bread and coffee.
Check out Naver maps here.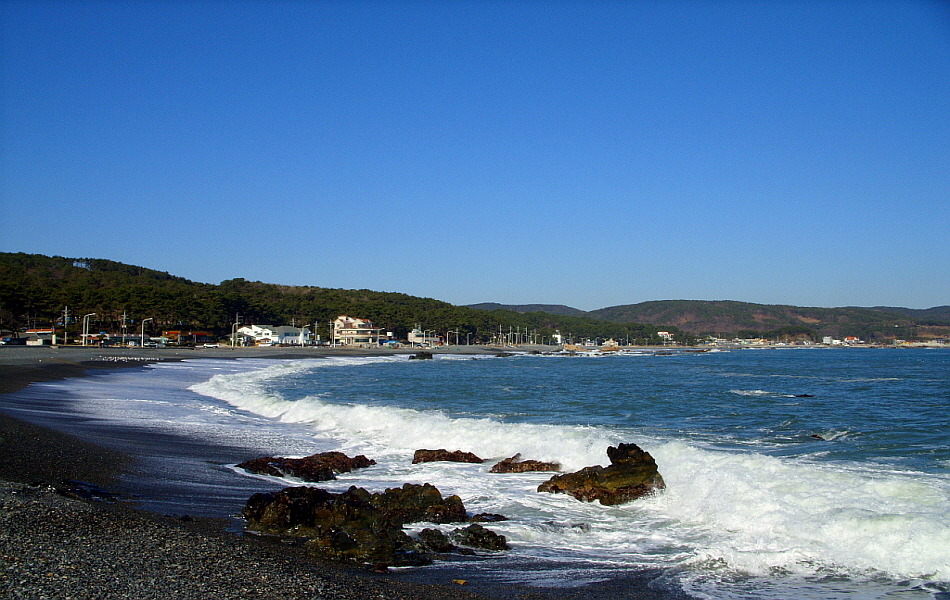 Yeomposan/염포산
Within Dong-gu, there is hiking around Yeomposan. The mountain  has many trails of differing levels and is a nice escape from city noises.
Here's the map.
Hiking Outside Dong-gu
Gaji Mountain/가지산 
Gaji is the tallest mountain in the Yeongnam Alps, measuring at 1241m. I've done 4 day trips there from Dong-gu by bus in every season. It takes 2 hours one direction, so you must plan to leave early and plan a full day of food and water, and take into account when the sun sets so you get down the mountain in time.  There are restaurants at the base of the mountain, near Seoknamsa/석남사 temple for you to enjoy pajeon or buy water. There is also a tiny restaurant at the top that sells ramen, water and Maxim coffee. Don't bank on that being your meal in case it's closed.
This hike is extremely challenging, and as a seasoned hiker from Canada, actually one of the hardest I've done (due to steepness and humidity). If hiking in winter, there is minimal ice at the top, but a fierce wind. In summer, pack as much water as possible. If the air pollution is low, visibility may be good enough to see the city and ocean. I recommend you make time to see the temple nestled in the mountain's valley. It's incredible in every season.
If not driving, plan your bus route by searching for Seoknamsa/석남사
Check out Naver maps here.
Check out the Korean Trails website for more info.
Sinbul Mountain/신불산
Another gorgeous hike in the Yeongnam Alps and more popular for hikers of all levels. The trail head is easy to find (past the parking lot and massive climbing wall) and will eventually split into two trails. The one on the left goes to a waterfall and longer and very difficult (and fun) hike that require many ropes to climb up rocks. Ropes are provided, you need to wait in line and have fun. The trail on the right is easier, equally as steep, but uses a paved road with switchbacks. The view from the top is pretty great if there's no pollution, and there's also a restaurant with ramen and unhealthy snacks, so pack your own if you want nutrients post-hike.
Round trip takes around 4 hours, depending on your route and fitness level. Go in autumn! The leaves are incredible.
It's possible to go by bus as well. Check out Naver Maps here.
Stay Inside
East Ulsan Bowling/동울산볼링장
Bowling in Korea is a sport, not just a leisurely game. However, if you want something to do on a Friday night, this bowling alley is a fun place to hang out. It's cheap, although you may need to wait a little while for a lane to free. Same as in your country, except the Korean teams next to you will be wearing wrist braces and they will have excellent bowling form. Play on.
Find it on Naver Maps here.
Cha Cha Coin Singing Room/차차동전노래연슾장
You will experience a noraebang, maybe against your will after a long night of drinking, and it's very possible you'll hate it.
Before you write off the experience, you need to try a coin singing room, they're so much better! It's a smaller room with 2-3 mics, and you put in cash for a couple songs (usually W1000 for 3 songs). This singing room in particular was in a great location at Ilsan Beach so we could have dinner and hop on a bus after a few songs, no sweat.
Here is the map!
---
Are there any places you want me to add? Any places I've mentioned that no longer exist?
Feel free to leave a comment!